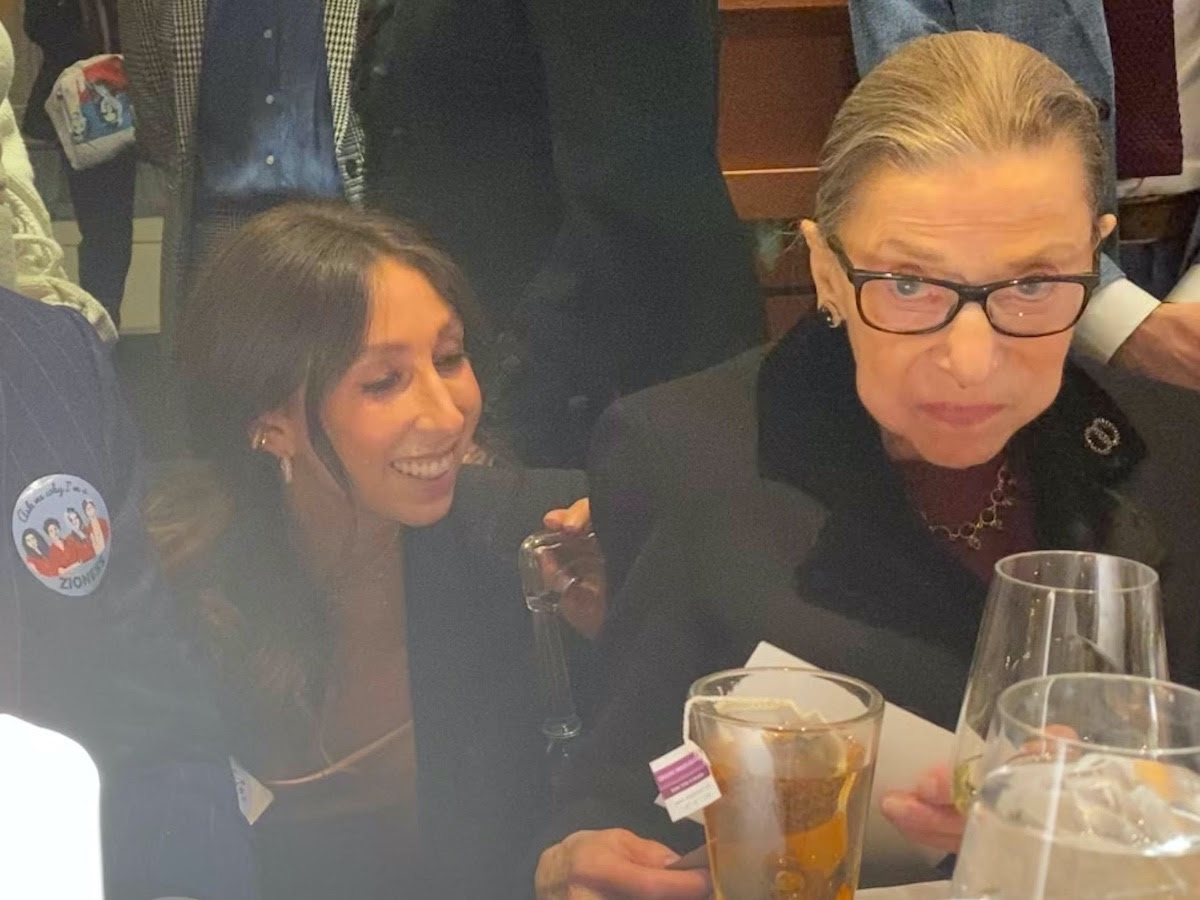 As Zionesses all over the country sat down to celebrate a new year, with new hopes and dreams, and new opportunities, we heard the news that Supreme Court Justice Ruth Bader Ginsburg, the first Jewish woman on the Court, passed away at 87. She was a tireless fighter for equity and equality, overcoming decades of sexism and discrimination to claim her seat on the bench, and always using her voice and her power to protect the most marginalized. RBG was our ultimate hero: a champion of women's rights, LGBTQ equality, racial justice and voter protection. She frequently and famously described the intrinsic relationship between her Jewish identity and her determination in the pursuit of justice. She was a true Zioness to her very core.
Last December, our Executive Director had the extraordinary opportunity to meet RBG, who told Amanda that her most profound personal heroes were Emma Lazarus and Henrietta Szold. Emma, whose poem "The New Colossus" adorns the Statue of Liberty, was a Jewish feminist, Zionist, and activist for immigrants and refugees fleeing persecution and seeking asylum in America, home of the free. Henrietta, the founder of Hadassah, was one of the most active American Jewish women in the growth and success of the American Zionist movement. When Justice Ginsburg heard that Zioness was founded in response to those who say "you can't be both a feminist and a Zionist," she responded emphatically, "that is simply not true!" It wasn't true, and if anyone would know that, it was her.
We are losing our heroes in a moment where we need them most. Just a couple of months ago, we lost another giant, Congressman John Lewis, whose footprint is forever emblazoned on the American story. Tonight, with the passing of RBG, we are reflecting on the profundity of these losses, the gravity of this moment, and our desperate need to hold onto hope. We know Justice Ginsburg would understand our need to mourn and to grieve. But more than that, she would want us to fight. She used every ounce of strength she had to protect us as women, as Jews, as LGBTQ individuals, as immigrants and refugees, as people of color, as vulnerable minorities, until her very last breath. In this moment, right now, today, and every day to come, we must honor her by fighting for our country, our rights and our freedoms with the same urgency, passion and perseverance with which she fought for all of us. Her death, in the first few minutes of our new year, must remind us all year long of how much work there is for us to do.
Her life was the very meaning of a blessing. May her memory be a blessing, as well. Baruch Dayan Emet, RBG, and thank you, from the bottom of our shattered hearts.