A project of Zioness, the Zahav Fellowship is an intimate cohort experience for Black Jewish Zionists to build community and help mitigate the compounding impacts of antisemitism, racism, and all forms of hate, while celebrating Jewish self-determination and democracy in the Jewish people's ancestral homeland, the Land of Israel. We're working to create a powerful space for current and emerging thought leaders who hold intersecting Black and Jewish identities––as a growing number of proud Jewish Americans do––and whose Zionism is inextricable.
Applications for the 2023-2024 cohort are closed.
Stay tuned for future opportunities to participate!
Fellows will engage with:
A growing network of Black Jewish Zionists
Dynamic speakers and panel discussions
Empowered, participant-informed programming and structure
A space to share and learn from each other's lived experiences for mutual empowerment
Regular updates about advocacy/organizing/other community engagement work happening across our Zioness ecosystem to encourage further engagement
The complexity of the intersection of our identities, our politics and the communities we inhabit
The project will:
Increase knowledge and understanding of Zionism, Jewish identity, Jewish diversity, and of combating antisemitism, racism, and other forms of hate.
Center Black Jewish Voices to ensure authentic and diverse narratives on Zionism are represented in Jewish life and broader society
Increase comfort and literacy to engage in courageous conversations at the intersection of identity, race, gender, Zionism and democracy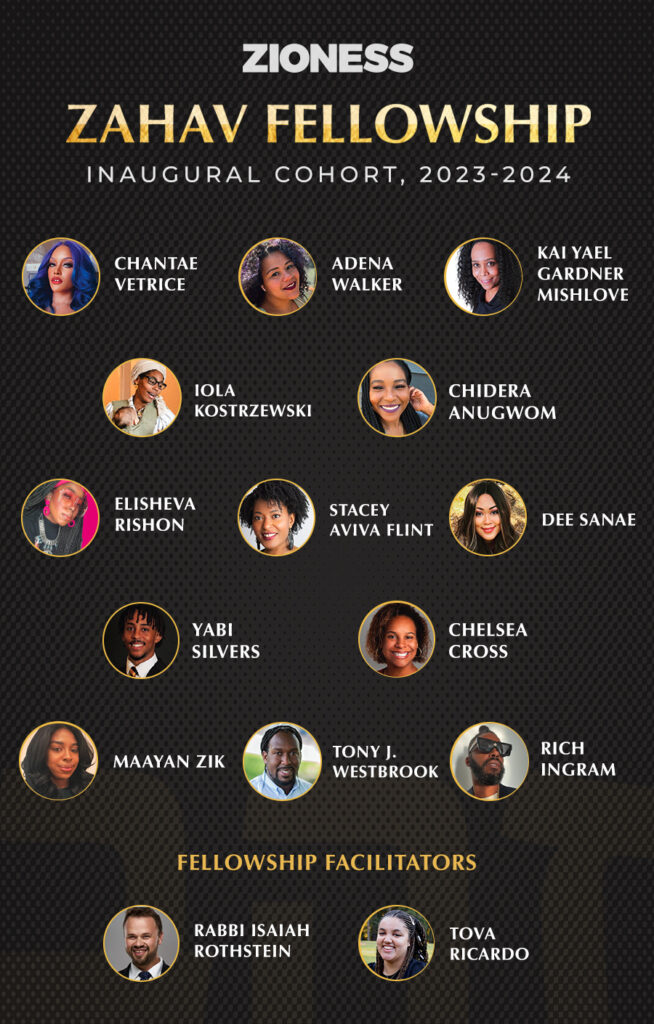 Meet our facilitators:
Tova Ricardo
Rabbi Isaiah Rothstein
Meet our inaugural cohort:
Chidera Anugwom (she/her) is a Black Jewish woman who accidentally became a micro-Jewish influencer in May 2021 (IYKYK). Flash forward to today, Chidera is passionate about adding nuance to difficult conversations and sharing a tiny sliver of her life being an African Jew living in America. Chidera lives with her husband and her dog and she loves sharing book reviews while sitting on her stairs.
Chantae Vetrice (she/her) began her professional career in Atlanta, GA working alongside some of the industry's top producers such as producer J Rell (Tyrese, Jamie Foxx, Musiq Soulchild, Maroon 5, ​CeeLo Green, Mr. Probz, Andersen Paak, Queen Latifah & others) and landed a production deal with Anthony Dent (Diddy's Hitmen). After living in Atlanta, she moved to Ibiza Spain where she focused on creating her image and coming into more of her own as an artist. While doing so, she graced the cover of various magazines such as Ibiza Style and featured in Pacha Magazine alongside world renowned DJ Roger Sanchez (who she is still close friends with), Ushuaia Magazine, and being the face of UK based live music venue Ibiza Rocks. Musically, she was able to work with producer Rui Da Silva of the famous song titled "Touch Me" and Sonic Vista Studios where artists such as Lady Gaga record when on the island. Outside of music, fashion and modeling have always been her passions. She landed a collaboration with Swizz Beats and his worldwide art & music tour called NoCommission in partnership with Bacardi. Her face was on thousands of limited edition Bacardi bottles worldwide and Art Basel in Miami Beach, FL. Her current partnership is with beauty/cosmetics brand Manic Panic NYC (home of Tish & Snooky). Chantae is currently releasing new singles and visuals, planning her merchandise launch & working on many other projects.
Chelsea Cross (she/her) is a native Wisconsinite and uses her experiences from living abroad and on both United States coasts, while serving in the education and health fields, to impact her home on a broader scale. Chelsea identifies as a Blewish woman (Black+Jew), as her background propels and enables her to make change. She is a former classroom teacher who works as a consultant, leading political and other community-based campaigns. She also consults in the public relations sector and with organizations that use data and technology as tools for social change. Chelsea holds degrees from Brown and Johns Hopkins Universities and relishes the challenges of advocating for diverse, safe, educated, and healthy communities. In addition to acting as E'dot Point in Milwaukee, she helps to lead E'dot fundraising and development work. She also serves on the board of Tikkun Ha-Ir, which focuses on the Jewish value of "tikkun olam," improving the world, and will soon join the board of Ovation Jewish Home, where she will focus on caring for the Jewish elderly. She recently graduated from Boardified, Next-Gen Ovation, and Milwaukee Jewish Federation's Weinstein Fellowship where she trained to be an instrumental board member for Jewish organizations and a Jewish leader. She is currently organizing for the Jewish Organizing Institute and Network through their Jews of Color Organizing Fellowship. Chelsea is also a Suzuki-trained classical violinist who speaks multiple languages, serves on various other boards across the country, can walk on stilts, has visited every continent besides Antarctica, and enjoys cooking, reading, gardening, rowing, swimming, volleyball, hiking, biking, and practicing Bikram yoga.
Stacey Aviva Flint (she/her) serves as the Director of Education and Community Engagement for the Jewish Federations of North America (JFNA) on the JEDI team (Jewish Equity, Diversity, and Inclusion). Stacey Aviva has a BA in Political Science from the University of Cincinnati, a master of Urban Planning and Public Policy for UIC (CHICAGO), certificates from Spertus Institute for Jewish Learning and Leadership/Northwestern School of Professional Studies in Jewish Leadership and Adult Jewish Learning (Spertus Institute) and is currently a candidate for a masters in Jewish Studies at Spertus Institute. Stacey spent over a decade specializing in urban economic development, construction and financing of Affordable Housing, Brownfield Redevelopment, and New Market Tax Credit financing. Stacey's Jewish professional career began as the Policy Director for Chicago's Jewish Council on Urban Affairs (JCUA), combating racism and antisemitism and advocating for housing reform, criminal justice, immigration reform, and Jewish/African American dialogue.  She has designed engagement strategies for synagogues, Jewish educational and civic institutions. She is a nationally sought speaker, and her writings have been featured in The Forward and her blog at the Times of Israel. Stacey's Eli Talk, Kahal Amim-Many Faces, One Community, has been viewed 2,000 times. Stacey Aviva serves on the board of Jewish Family Service of Colorado, Jewish Life Committee member of the Rose Community Foundation, and is a current Executive Leadership fellow with the Mandel Institute.
Kai Yael Gardner Mishlove (she/her) is the executive director of Jewish Social Services of Madison. She is the previous JCRC Director at the Milwaukee Jewish Federation where she was instrumental in starting the AAPI Jewish Alliance to counter antisemitism and anti Asian hate. She is a firm believer in the African Proverb: "It Takes a Village" and she acts on her Black and Jewish identity and faith by making sure that her life and work in the community is a meditation on G-d and reflects the Jewish concepts of Tzedakah, Chesed, and Tzedek. Kai has a BA in Political Science from Boston University with graduate studies in Public Health from the University of Illinois. She is active in many communities and has served on the boards of Hillel Milwaukee, JCRC Milwaukee, the Friendship Circle WI, NCJW Milwaukee, SE Asian Literacy Project, Wisconsin African Community Association, Milwaukee Turners, Rotary Club, Hands and Voices and various disability rights groups. She is a member of the Jewish Women's Foundation of New York Collective Cohort 4, alumnus of the Selah JOC Cohort 15 and the Jewish Women of Color Resilience Circle 2. Kai has a long history of advocating for vulnerable communities and expertise in developing programs that encourage and promote cross community collaboration, health and wellness. Kai was awarded the Building Bridges award by NCJW Milwaukee and recognized as one of 12 Milwaukee Sheros in 2020 by the Milwaukee Repertory Theater. Kai was also featured as one of 100 Milwaukeeans interviewed regarding democracy and citizenship in the This Is Milwaukee Project. Recently Kai was awarded the 2021 Woman of Faith award by the Salvadoran Sisters of the Divine Savior in recognition of her Tables Across Borders Project, restaurant and community gathering pop ups highlighting the cuisine and cultures of diverse local refugees and others. Kai lives in Madison. She is a very proud stepmother and mother of four adult children and stand-in "American mom" and "auntie" to several youth. Kai's hobbies include motorcycles, bikes, cooking, gardening, music, and art. Kai feels very strongly about the importance of building global bridges between cultures and the promotion of inclusive, diverse, and healthy communities.
Rich Ingram (he/him) (Bourn Rich) was born in inner City Chicago to a young couple in their early twenties.  During his early development around 3 years old, Bourn Rich experienced a tragic break up of his parents. His mother packed up leaving Chicago and his father for a better life in LA. From that moment on he had to be the little man of the house. His childhood memories include sports leagues, basketball, baseball, football, and also the LA graffiti, hip hop and skateboarding scene.  As a result, his work regularly includes subtle images and symbols reflective of this formative early period of his childhood. Later in life, he witnessed his mother's mothers health decline which made him quit college to be closer to take care of her. "Art has definitely saved my life and my mother's life." His art is deeply infused by these experiences rooted in his diverse interests, unusual life experiences, and deeply founded ideals, Rich's art translates his unique perspective into visual imagery that is vibrantly bright and touching. Bourn Rich has also devoted his time traveling the world teaching kids and at-risk youth how to become artists helping them to reimagine a better life.  He currently resides in Los Angeles where he paints murals, canvas, and does street art.
Iola Kostrzewski (they/them) is a dedicated Jewish professional with a passion for building connections and advocating for marginalized communities. With a background in public and maternal health. Throughout their career, Iola has been committed to expanding access to healthcare and education surrounding HIV, working closely with healthcare providers, public health organizations, and community members. They have demonstrated expertise in navigating policies, promoting intersectional equity within healthcare, and delivering impactful public speeches. Their certifications in addiction and trauma, LGBTQ+ identity and health disparities, and grassroots community organizing further enhance their knowledge and ability to address complex social issues. In addition to their professional endeavors, Iola is the mother of 6 amazing children who are involved in various activities including helping out on their urban farm!  Iola has committed to fostering inclusive and equitable communities, this extends beyond their professional roles. They continuously advocate for birth equity, and connecting families to essential resources. Their efforts have led to speaking engagements on a national stage and involvement in policy reform initiatives. Iola Kostrzewski is a compassionate individual dedicated to making a difference in the lives of underserved populations, BIPOC communities, and the LGBTQAI+ community while holding onto their Jewish values. Their unique blend of experience, skills, and passion positions them as a valuable advocate and ally in creating a more inclusive and equitable society.
Elisheva Rishon (she/her) was a born & raised Orthodox Jewish American woman from Brooklyn. She founded Eli7 Designs, a cultural empowerment apparel brand. She is an artist, a writer, a designer & a speaker. Elisheva has been involved in Jews of Color spaces for over a decade. She has been published by Aish, Jew in the City and featured in Refinery29, Allure Magazine, VoyageLA, Hey Alma, The Times of Israel, Jewish Link, I24 News, Jubilee Middle Ground, and more. She frequently discusses Orthodox Judaism, Antisemitism, Anti-Black Racism & Modest Fashion.
Dee Sanae (she/her) is a founder and music industry veteran, currently consulting small and start-up businesses in music, fashion, and other artistic areas. Sanae works with both for-profit and non-profit organizations with a focus on brand management, business profile writing, media relations, sponsorship acquisitions/ activation, fundraising, grant-writing and operationally organizing businesses. Sanae is also in public interest law, legal litigation support and legal research for defense attorneys in Washington, D.C. Sanae is a producer, on-camera host, and creative director. Under her media company, Regroup TV, Sanae created two shows that are geared towards capturing the cultural and lifestyle elements of art, music, food, and entertainment. Sanae is featured on an international network called DanceTelevision, serves on film panels with the DC Film Alliance and Reel Independent Film Extravaganza, and provides mentorship for upcoming producers and media professionals through DC Shorts. Sanae started her career as a journalist and loves capturing and telling other people's stories. She has written and currently freelances for music publications in Los Angeles and New York.
Yabi Silvers (he/him) is an ambitious and analytical student at Wake Forest University. He is passionate about advancing renewable energy and addressing land cultivation issues. He possesses exceptional interpersonal and communication skills that enable him to thrive in inclusive and collaborative environments. Fluent in two languages and proficient in a third, he is committed to promoting cross-cultural understanding through language.
Adena Walker  (she/her) is Moishe House's Eastern Community Manager. In her role, she guides residents in creating meaningful programs in building their communities. Adena attended her first Moishe House Williamsburg event in 2015, where she met the founders of Base, and became immersed in both communities. Adena believes in having strong Jewish spaces for all levels of observance and identities and in being open to new people and new experiences with warmth and excitement. Adena has taught autistic, multi-disabled, and severely emotional children of all ages, in over 100 schools in all 5 boroughs of NYC and in Massachusetts. Adena has a BA from Wagner College in Musical Theatre and a Minor in Psychology. She has been on ABC, MTV, off-Broadway, and performed at venues all around NYC. In her spare time, she sits on the Board of Brookline Interactive Group, creating social media content, and is working on a new children's television show, Deanie's Corner. Adena is based in Brookline, MA.
Tony J. Westbrook, Jr. (he/him) is an award winning Jewish African-American, activist, Jewish educator, consultant and community leader. Tony produces digital Jewish content on Instagram and TikTok under the username @frumjewishblackboy. When he's not teaching innovative Torah on social media or in person, he is working to address issues of racial inequality, discrimination, diversity, and inclusion throughout the St. Louis community. Tony earned his B.A. in Communication Studies from Fontbonne University in St. Louis, MO, and graduated from the Pardes Institute of Jewish Studies in Jerusalem with certificates in Judaic Studies and in Experiential Jewish Education. He is the recipient of the Covenant Foundation's 2021 Pomegranate Prize for emerging leaders in the field of Jewish education.
Maayan Zik (she/her) is a community organizer, activist, and proud Black Jewish woman within the Brooklyn Crown Heights community. After the murder of George Floyd in May of 2020, she founded several initiatives, including the "Tahalucha for Social Justice," in order to mobilize her community to advocate for positive change. Since beginning her activism, she has been nationally recognized by prominent organizations such as the Jewish Week's "36 under 36" for her important social action and community impact.  Zik was born in Alabama in 1985 and grew up in Washington D.C. As a teenager, she discovered that a relative on her mother's side was rumored to be Jewish, which led her to delve into the study of Judaism, Hebrew, and Yiddish. Zik later moved to New York to pursue a degree in Fine Arts from Cooper Union, eventually moving into the Crown Heights neighborhood, where she explored Judaism further.  Unfortunately, Zik's initial experiences in Crown Heights were entangled with acts of discrimination. As a Black woman in an insular community, she often experienced microaggressions or outright racist behavior. Slowly, however, she found her own space within the larger Chabad-Lubavitch world. She eventually converted at the age of 22. In 2008, she met the Israeli man who became her husband at a Shabbat dinner; they have four children together. On June 7, 2020, a few weeks after the horrific murder of George Floyd, Zik and her friends decided to create their own rally, called "Tahalucha for Social Justice." Following her initial brush with activism, Zik and her friends established the organization Ker a velt. The name is a Yiddish rallying cry urging people to "turn the world over" in pursuit of a world liberated in justice and peace. She also co-founded Kamochah, an organization dedicated to supporting, giving voice to, and providing a community for those identifying as Black and Orthodox. In 2021, Zik was named one of The Jewish Week's annual "36 under 36" list, which honors young Jews creating positive change in Jewish New York.