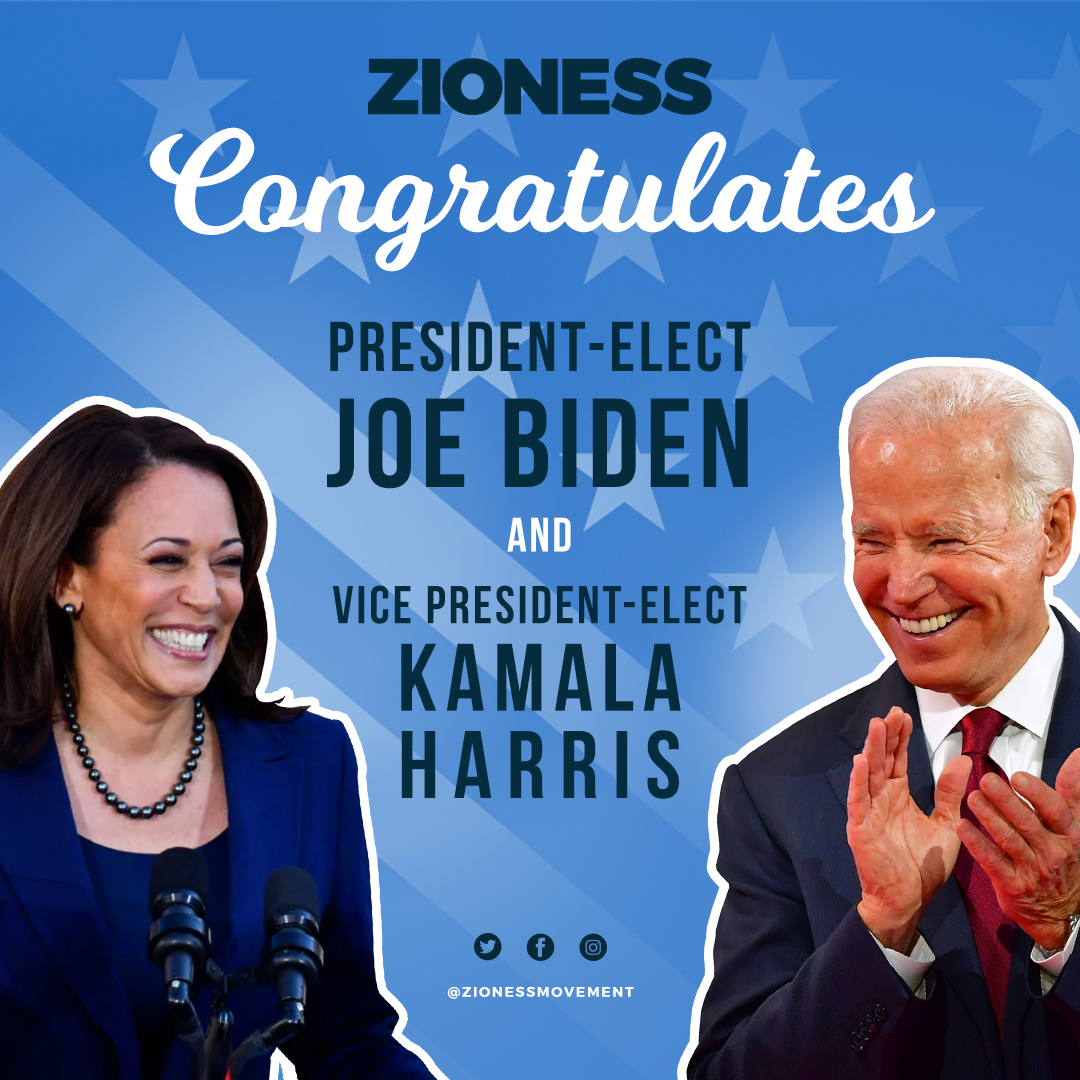 Zioness congratulates President-elect Joe Biden and Vice President-elect Kamala Harris on their victory after a dark and difficult time in American history. We have lamented, every day, the platforming of voices of hate, in both the far right and the far left, and we've worked to protect marginalized communities most vulnerable to those forces who have threatened our security, bodily integrity, and democracy. President-elect Biden's decency, honesty, integrity and moral compass are worthy of true appreciation, and we wish him only luck in healing the toxic divides afflicting our community and our country.
No matter one's political affiliation, it is pure magic to watch Senator Kamala Harris take the mantle as the first woman, first Black person, and first child of immigrants to become Vice President of the United States. Children across this country and indeed, the entire world, can finally see themselves represented in the highest levels of our government, and know that, with hard work and determination, they too can rise to become the Vice President––and one day, President––of the United States of America. The shattering of this thick glass ceiling inspires profound hope for many women who truly wondered if they would ever experience this moment in our country's story.
Joe Biden and Kamala Harris have long been true friends and supporters of the American Jewish community, including with their deep and personal understanding of the centrality of Zionism and Israel in our Jewish identities. With unprecedented antisemitism rising across the political spectrum over the last four years, their commitment to standing alongside us in the fight against all forms of bigotry––even from within their own party––is extremely comforting. This is one of many reasons why the Biden/Harris ticket received nearly 80% of the American Jewish vote, including in critical swing districts that ultimately determined the outcome of the race.
Joe and Kamala will be sworn in alongside a new Congress full of diverse trailblazers for women, for LGBTQ equality, for racial equity, environmental justice and Indigenous rights. Many of these individuals won challenging races because of the unprecedented commitment of people across this country working to activate volunteers, register voters, mobilize get-out-the-vote campaigns, and fight to ensure the integrity of our election and democracy in the middle of a global pandemic. We must all take a moment to celebrate this remarkable success.
Above all, we've been reminded that the great experiment of American democracy is fragile. Its continuity demands our attention, our passion, our vigilance and our full effort––and not only in times of crisis. After the largest turnout in our nation's history, it is the highest order of civic duty to work to ensure that voter education, protection and participation continue to be prioritized, and we at Zioness vow to continue that absolutely urgent work. We look forward to working alongside our chapters and our partners for many years to come.